Trirock Black Keymod picatinny rail sections kit fits key mod handguard rail mount system - Optional 5,7,9,11,13 Slots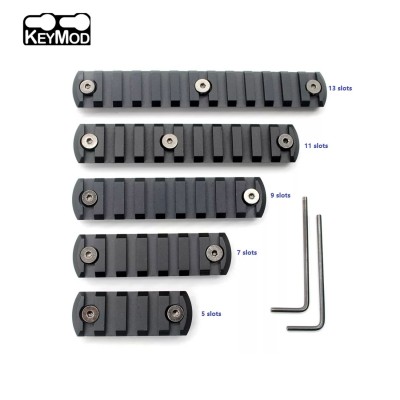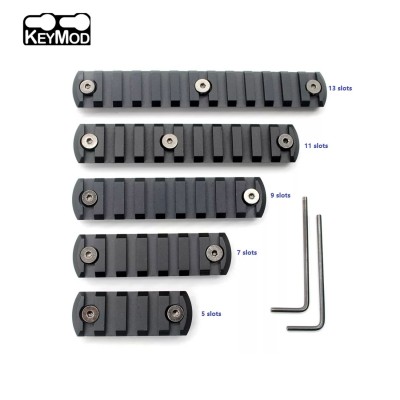 Model
KM-(5)(7)(9)(11)(13)
Unit Price

Order Quantity
Unit Price
Delivery period
2 - 1000
US $

3.09

/piece
35 day
Place of Origin:China
Model Number:KM-(5)(7)(9)(11)(13)
Color:Black
Feature:Keymod Picatinny Rail
Brand Name:Aplus+, OEM
Type:Picatinny Rail
Material:High quality CNC aluminum T6061
Aplus Black Keymod picatinny rail sections kit fits key mod handguard rail mount system - Optional 5,7,9,11,13 Slots

This keymod rail section kit is designed for fitting keymod handguard rail mount system.


CNC precision machined from high grade quality Aircraft Grade 6061-T6 Aluminum by Mil-Spec hard black anodized finish.


With the protrusions design at the bottom to bolt-on the keymod holes, it could perfectly prevent the rail sections from sliding off while firing.


Built in 1913 Mil Spec picatinny mounting rail allows mounting of most any weaver/picatinny based scope, red dot and other aiming devices.


Curve edge design provides a safeguard to avoid any scratching damage to your rifle ,flashlight, scope or rail section itself. Most important, it can prevent the hands from scratching when operating.
Aplus Aluminum KEYMOD rail sections is in high quality to ensure a proper fit in your KEYMOD handguards and picatinny/weaver rail mount system. They are made of 6061-T6 Aluminum with CNC process,which are scratch proof, smooth finished, perfect anodized process. Easy installation for rifle, airsoft accessories such as sling mounts, bipods, flashlights, grips, etc in KEYMOD system.

* Installation Tips: Put the half round protrucsion forward and the round protrucsion backward.

Product Parameters:

Package included:
One piece of KEYMOD rail section (Please kindly choose the size based off your demand when placing order.)
Steel Screws & Allen Wrenches.

The KEYMOD Picatinny rail sections are subject to 1913 Mil-spec, that are in high quality control standards to ensure a proper fit to your KEYMOD handguards and other weaver rail mount system.

Picatinny rail sections are made of 6061-T6 Aluminum with CNC precision process,which are scratch proof, and smooth finished with black color.
Easy to install with rifle and airsoft accessories such as sling mounts, bipods, flashlights, grips in mlok system.

Length:
5 slots: 2.25 inch ;
7 slots: 3.04 inch ;
9 slots: 3.83 inch ;
11 slots: 4.61 inch ;
13 slots: 5.40 inch.
Width: 0.83 inch
Height: 0.39 inch

Net Weight:
19g for 5 slots;
25g for 7 slots;
32g for 9 slots;
38g for 11 slots;
44g for 13 slots
Product Maps:
2023120523432989541139641

US $56.45

2023120523423510271734387

US $56.45

2023112707141643812364658

US $50.55

2023112109380626769687769

US $64.55

2023112109350998668282365

US $64.55

2023111120282758212703061

US $38.55

2023110900404075465593669

US $68.55

2023102602425262073381776

US $65

2023101806365885318596677

US $29.05

2023101209065404956877344

US $48.55
Please send your message to us
KEEP UP TO DATE

Sign up for our newsletter and follow us on social media